One-Day Sittings
No Abode One Day sittings provide the opportunity to deepen in practice. Sittings include periods of sitting and walking, a morning dharma talk, lunch, voluntary work period, tea, and afternoon talk.
Registration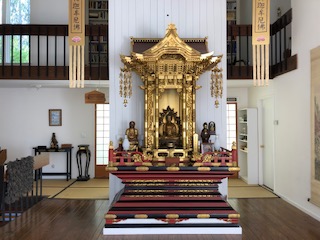 The link for registration is offered in the monthly announcement email available upon subscription and in Tenshin Roshi's calendar in the event details.
Registration closes on the Thursday before the sitting or when registration is at capacity. Registration is open for participants who are able to attend the whole day. The day begins at 9 am and ends at 5 pm.
Health and Safety
In the interest of maintaining the health of our sangha members and our broader community, the following is required for participation in the sitting:
Verification that you are fully vaccinated for COVID-19 according to CDC guidelines

A completed No Abode Monastery Covid Waiver

A negative Covid-19 home test administered within 24 hours of the sitting

A completed Covid-19 health questionnaire within 24 hours of the sitting

Masking indoors at all times with N95 or KN95 masks
Covid vaccination verification and other documents can be submitted upon registration electronically or presented at the door. The No Abode Covid Waiver can be found here for your reference: Covid-Waiver-Form-2022.pdf
On the Day of the Sitting
Bring your CDC vaccination card and copy of the No Abode Covid Waiver if you plan to present these at the door.

Bring your own cushion or bench and N95 or KN95 mask. 

Dress in layers or bring a shawl and socks. Windows and doors will be open. 

Refrain from wearing scented products.

Bring lunch items that do not require heating.

There is a voluntary work period. Participants  may wish to bring a change of clothing for work.

All seating is open seating, chairs are available, outside seating is available. 

Be seated by 8:55 am, the sitting begins at 9:00 am.

Tea and hot and cold water are available in the kitchen throughout the day.

Consider masking outside when in direct conversation with others.

Appropriate sun exposure precautions such as a hat with a brim are suggested.
Given limited seating and health considerations, all participants need to have their own individual registration prior to the sitting. We won't be able to accommodate walk-in participants.
Other
Place cell phones in silent mode and stored away for the sitting.

Photos and video require prior arrangement. Contact noabodesangha@gmail.com.
Dokusan
A list to request an individual meeting with Tenshin Roshi during the sitting, is available upon arrival in the community room. See the one day sitting jisha on the day of the sitting to be added to the list.
Donations
There is no cost to participate in a one day sitting. Donations for teaching and maintenance of the temple are welcome; offering boxes are available on the day of the sitting.  Donations to the temple can also be made through the following link:
Carpool Information
To best care for the impact of our one day sitting on our neighbors and in concern for the environment, carpooling and/or ridesharing from Manzanita Parking Area is requested.
RIDESHARING FROM MANZANITA
Leave your car at the Manzanita Park and Ride Lot just off of 101 at the Hwy 1 exit, opposite the Buckeye Roadhouse. Parking there is free. Contact Angela Nielson, angelanielsen1202@gmail.com
NO ABODE RIDESHARE BOARD
If you would like to be invited to the NoAbodeRideSharing Google group, email izbel18@gmail.com with a request to be added to the group.
CARPOOLING TO NO ABODE
FROM THE EAST BAY 
Contact Amanda Kairys – amandakairys@gmail.com or Karen Umezawa – kukb@aol.com
FROM SAN FRANCISCO 
Contact Tedd Brown – teddbrittbrown@gmail.com