About No Abode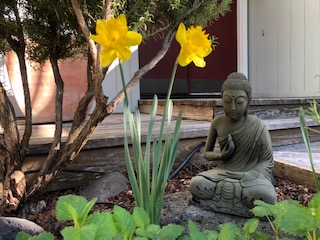 No Abode is a vibrant Buddhist practice community dedicated to Mahayana teachings in the Soto Zen tradition. Its temple is located in Mill Valley, California. No Abode was established in 2001 as a teaching place for Tenshin Reb Anderson.
No Abode welcomes everyone to its community, inclusive of differences of race/ethnicity, country of origin, income level, class background, gender, sexuality, age, and disability status. The No Abode community aspires to practice the deeply compassionate way of the bodhisattva.

Currently, No Abode offers dharma talks via Zoom, and is beginning to open up for one day sittings. See Tenshin Roshi's teaching schedule for dates and the link to join.
No Abode is a non-profit organization and is supported by unsolicited donations.